Our company is a leading manufacturing automated pneumatic operated valves continuosly improving what we do it.
Welcome to Echpi Pneumatics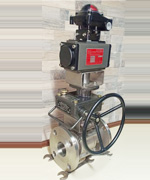 ECHPI Pneumatics is one of the prominent names in the industry for the Production and Export of top – grade pneumatic rotary actuators in double acting and single acting (Spring Return) design. The compact yet sturdy Actuators operate through 90 (Quarter Turn) angle for actuation of Ball valves, Butterfly Valves, Plug Valves, Dampers, Furnace Doors, etc. One Touch Fittings along with machine components, Pneumatic Cylinders, Control Valves, Filter Regulator Lubrication, Miniature Cylinders, Standard Cylinders and Non Standard Cylinders

Since our establishment in the year 1999, over the years, we have acquired the necessary expertise to provide for the requirements in several domains like that of textile mills, garments units, automobile sector and all types of automation machineries.

100% Quality Products